'Davison Canners Limited is in receipt of SFA – Selective Financial Assistance – 2018 SFA project support from Invest NI for Capital grant regarding SFA project 1808/130173745, SFA project 1906/130194969 and SFA project 2008/130228512.
This project which is part-financed by the European Regional Development Fund under the Investment for Growth and Jobs Programme 2014-2020 aims to increase employment levels and enhance efficiencies.'
OUR STORY
Over 40 years ago, the Davison family grew and harvested their very first crop of Irish Bramley apples. Four decades on, with over 120 acres of orchards and brand new grade AA BRC accredited factory facilities on site, our family firm has grown into one of the UKs leading producers of speciality fruit, fruit compotes, jams and bakery fillings.
Throughout the last four decades, we have grown to meet the changing needs of our customers and diversified to stay ahead of food trends.
DEEP ROOTS
While our roots are in apple growing and processing, our business has branched out into a number of exciting areas. We are constantly extending the range to meet customer needs and it now includes fruit compotes, fillings, jams, curds, sauces, syrups, fruit for dairy and processed apple products.
FRUITFUL FUTURE
When it comes to tasty innovations, we're jam packed with ideas. So whatever your requirement, our NPD team will work to provide you with the perfect sweet or savoury creation.
Using a variety of speciality ingredients and fruits, we cook, create and innovate to meet the requirement of our customer's individual projects. Our team work with chefs, major multiples and food manufacturers to develop delicious solutions to fit flavour profiles, costs, timescales and quality standards.
GROWING WITH YOU
We believe strongly in taking an individual approach with each customer, building long term relationships between our dynamic and passionate team and yours. We have the ability to deliver, act quickly and maintain quality products and service.
AWARDS & RECOGNITION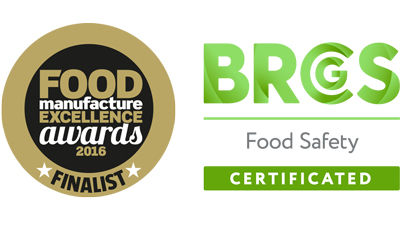 Food Manufacture Excellence Awards 2016 Finalist
BRC Grade AA

From nurturing and maintaining our orchards, to expanding our range in line with changing tastes, growth is at the heart of everything we do.